When I was a student at the School of the Art Institute of Chicago, one of my favourite photography courses was the one taught by Barbara DeGenevieve.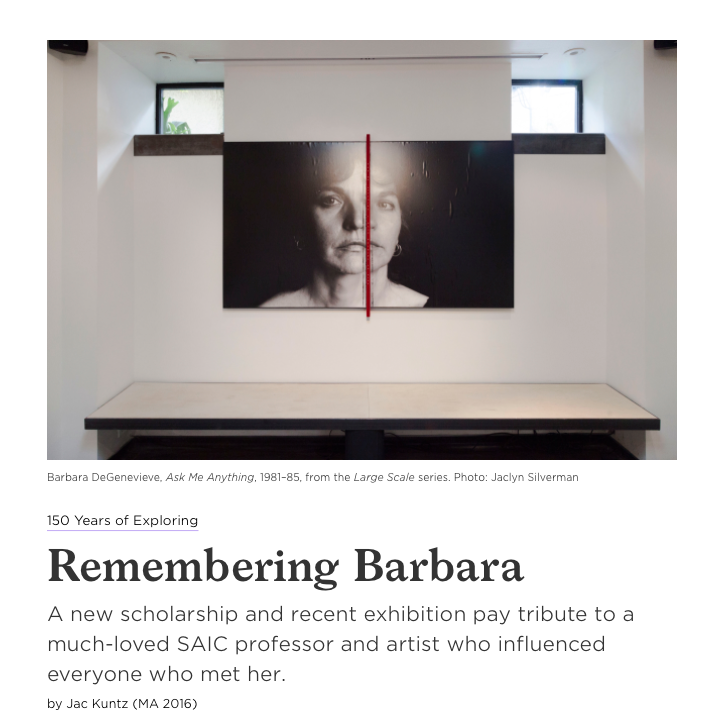 She taught many other classes after the 80s, but I took her "alternative processes" course, learning to print on various surfaces from negatives using all sorts of "forgotten" photographic processes. Her gift was not just in teaching about these interesting old ways to create photographs, but in opening people's minds.
Her own work was edgy, feminist and challenging – something really needed at the time and something that definitely encouraged me to pursue my photography to wherever it led me.
She also opened many in the class to things beyond photography techniques of course, as any good teacher does. She was one of the first people in my life that I recall mentioning how much food and what she ate affected her (I was already vegetarian, but she was talking about things like eating energy foods like fruit for breakfast rather than toast and how it affected her mood and stopped her from having an energy crash. The sorts of things that the rest of the world would not pick up on as "trendy" and healthy eating for a few more years). I remember other things – like when we had our class critique at her house that she put tampons out in the bathroom toilet for anyone to use – the same way we all put toilet paper out. A small thing at the time but also shocking as then there was literally no one else doing this – and certainly one that made me suddenly realise how much "period shaming" affects women and I later started to do the same at my house. She was a proud and brave feminist and a wonderful photographer, teacher and person. This was after I had attended a year at the all women's Barnard College, where you'd think this sort of thing was common place already (it wasn't).
As far as photography goes, I was having a hard time with my life then and my work was just full of expressions of that inner turmoil. She helped challenge me about why I was making certain images and to consider if I was or was not exploiting myself as a subject. I remember also the teaching was shared by the MFA candidate teaching assistant Lewis Toby and it's only now that I find he is still doing photography and is an underpaid adjunct professor at SAIC (that is par for the course now at universities). It's too bad really that I didn't take other classes with her after that first year, but I don't recall others being offered. I think she was not on staff full time when I was at SAIC and was a visiting professor from U of I at Urbana.
In that photography class I also met a couple of friends who's friendship has lasted over great distances and many years as well as various entanglements and emotional struggles. Friendships forged in difficulty are not soon forgotten and are part of what shapes your very being. It was an important time in my life, and it's sad to see bits of it are falling away and dying – much like Chicago itself seems to be falling away and dying, losing it's soul bit by bit to developers.
So, it was with great sadness that I read she had died of cancer in October last year – and only in her 60s. A life cut short far too soon. And strangely from a cancer that she herself had fought for greater awareness about. It's also quite sad to me that despite being the chair of the photography department at SAIC by the time she died (she was not in that title when she was my instructor there in the mid 80s) that she still had never had a solo show. Now that she has passed – finally she was finally honoured with one. I am annoyed that I did not hear about this show from my alma mater SAIC until AFTER the show was over.
More reading –