Photography Services Chamonix
Chamonix Wedding Photography

I am lucky to live and work in the fabulous mountain playground of Chamonix Mont Blanc France where you can find me behind the lens capturing wedding days and other events in and around Chamonix. I travel and have shot weddings in Megève, Morzine, Les Houches, St Gervais les Bains, Annecy, Annemasse and other locations in the Haute Savoie, Savoie and Ain departments. I am happy to travel for destination weddings in Italy or Switzerland as well. I speak fluent French as well as English and a smattering of German and Spanish.
Check out the Wedding pages of my portfolio for some sets showing individual weddings as well as my favourite wedding moments.
If you like what you see, please visit my Wedding Packages page for rates and coverage options. If you are planning a non-traditional event (adventure wedding or proposals on a mountain top, skiing, climbing, paragliding etc.), feel free to give me a shout to discuss and I will quote you a price.
I am a sporty girl and thoroughly enjoy accompanying you on an adventure wedding or a destination wedding. I ski tour, road bike, horse-ride, rock climb, mountaineer easy routes and I do mountain trail running and I am happy flying (with someone else piloting) in a para-sail.
One of my favourite wedding blog sites to view for inspiration is Rock n Roll Bride – so if you are interested in an alternative wedding of any sort, I am more than happy to do your photography with a less traditional approach, use black and white or other post-production colour effects, help think of fun photo backdrops – all with the goal to make your special day have the look you love to reflect your unique personality as a couple.
Chamonix Property and Business Promotions
Do you need great photos of your alpine chalet, hotel, B&B, ski school, guiding business, pub band, store front, restaurant, nightclub etc. to promote and drive enquiries to your door, phone and your website ? Look no further.
 I understand the holiday accommodation industry as well as the mountain environment and the sports which attract visitors to the region. I will be happy to help you. I have photographed well over 300 properties in the past several years.
See examples in my online property photography portfolio or check out this blog entry on a local Chamonix hand-made ski manufacturing business I recently photographed. I have photographed hundreds of properties for web sites such as Airbnb as well as for private individuals.
For more information see Property photography Details and Rates for Property Photography . Travel outside of Chamonix is always possible.
Chamonix Portraits and Engagements
Would you like some lovely candid, sporty, fun or formal portraits of your family, engagement photos, a portrait of yourself or your pet at your home, on a hike or at play in during your favourite mountain sport ? See some examples or portraiture in various environments in my editorial portfolio.
Prices start from €125 for an hour session within the Chamonix valley and its lift system and include online delivery.
Chamonix Documentary / Editorial
There is nothing I love better than a day in the mountains around Chamonix. Mountain biking, climbing, hiking, skiing, ski touring – if you would like someone to document your day skiing or hiking, your attempt at a new climbing route, a new line – contact me. I am also available for weblog and magazine feature work.
Full day, half day and expedition rates available starting at €180 for a half day. Very reasonable rates possible for non-commercial expeditions and charities. Rates quoted may depend on access logistics.
Available equally to visitors who want lovely memories of their alpine holiday, professional athletes looking for photos to get sponsorship and commercial mountain-based companies looking for fresh ideas to promote their products.
I have lived in Chamonix since 2001 and have many location ideas and good knowledge of the light at each time of the year to find a great location to shoot if you do not already have a fixed idea.
Chamonix Events
With 12 years past experience as a professional newspaper photographer, event coverage is second nature to me. I have professionally covered big city, small town and mountain events such as political rallies, news events, backstage at theatre productions, speeches, business conferences, rodeos, horse shows, rock bands, running races, ski mountaineering races and more.
I love to look for creative angles and unplanned candid moments which define the spirit of your event. I will be on the look out for the kinds of shots you will be able to use to promote your event in the future.
What is Included
 My prices include the delivery of the final edited and processed photos to you in a high resolution digital format online. I use the "
Client
" area of my website to deliver the finished images where you will find a free "download all" option as well as single photo downloads.   You will have password protection of your galleries and you can easily share the link with friends and family.  Each gallery also allows purchase of prints and other photo merchandise.   Your gallery will remain on line for at least one year after your purchase. Delivery on USB stick is available for an extra fee.   You are responsible for the permanent storage and backup of the images I create. I recommend strongly that you back up your digital photos on at least 2 hard drives as well as on a DVD type external media.   Never rely on only one hard drive, USB key or one DVD to store all your most important images, as every type of media will fail eventually.Photo Albums and Prints. I usually find I am too busy shooting and processing images to be able to include these in my packages. If you would like my assistance in creating a photo book, or have questions on how to best print the images, I can certainly discuss when we book the shoot.
Stock Photography
I am represented by the US-based photo agency Getty Images.
I am also a news photographer for UK-based photo agency Alamy and Alamy Live News.
Contact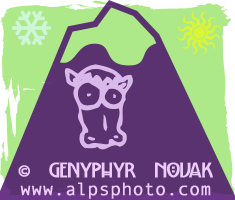 Please use the telephone for urgent requests.
Alps Photo
Chamonix-Mont-Blanc, France
Mobile: +33 (0)6 62 15 02 02
      Or use the form below to send me an e-mail. Ensure your e-mail address is correct in order to receive a reply. Please include your phone number or Skype ID if your request is urgent.   Please answer the small maths calculation before sending – this helps prevent SPAM mail.